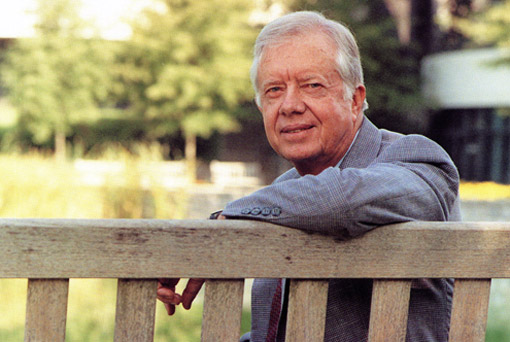 Thirty years ago I attended a graduation ceremony at Rice University on a sunny day in May. It was an outdoor affair which can sometimes be uncomfortable in Houston, Texas known for its hot humid days that begin as early as March. On that day, however, the weather gave us a break. We sat on folding chairs enjoying a rare breeze as we waited excitedly for the graduates to walk across the stage to receive their diplomas. The fact that former President Jimmy Carter would give the commencement address was an added treat. 
I had voted for Jimmy Carter when he ran for the highest office in the land. I pegged him as a kind man and his engineering degree told me that he was also quite bright. I felt comfortable with his leadership, but as sometimes happen events that probably would have taken place without or without him in office sunk his hopes for a second term. The overthrow of the Shah of Iran and a takeover by religious extremists disrupted the flow of oil resulting in shortages at the pump in the United States. When the U.S. embassy was raided and those working there were imprisoned  the blame was heaped on President Carter. 
Things eventually worked themselves out which is generally the way history goes, but it was too late for President Carter. He was soundly defeated in the next election. After a smooth transition for the next man in line, Carter returned to his home in Georgia and began a new and incredible phase of his life. He dedicated himself to helping those in need and preaching at his local church. He proved in the ensuing years to be a true man of God and a disciple to his fellowman.
It would be difficult to find an more genuinely kind and loving man than Jimmy Carter. His charitable works have become legendary. He has built more habitats for humanity than most contractors. He is not just the founder of a great charity, but also someone who picks up tools and works alongside people far younger than himself creating places to live for those who have struggled to find permanent homes. Even in his nineties he was still driving nails and laboring for the good of other people.
On that day in May at Rice University in the long ago I was not sure what his speech would be. I only knew that it felt nice to be in the presence of a famous man. With his first utterance I realized that he was speaking from the depths of his heart. He assumed that anyone graduating from the highly ranked university where he stood would make great contributions to society with their intellects and skills. Instead he challenged each of them to acknowledge the good fortune that they had by paying their riches forward. He insisted that they had a duty to care for the earth and all of its people. He urged each student to be as passionate about doing good works as he suspected they would be about their careers. He spoke with such force that even those of us who were spectators felt inspired to go forth and bring light to darkness wherever we may be. 
Jimmy Carter has now lived longer than any former President in history. He returned to his home to die. His time on this earth is drawing to and end and may even over before this post is published. As he spends his last moments on earth I find myself concentrating on his never flinching honor and goodness. He was a man of his word, someone who lived a Christian life better than most who have traveled through life. If he were a Catholic I think he might one day be officially named a saint. As it is, I am certain that he has been a saintly man with or without a title. He is an example for all of us to follow. 
There may be many debates about Jimmy Carter's presidency, but few will be able to honestly question his integrity and generosity. He most surely was devoid of the many hypocrisies that we see all around us. He never asked any of us to do something that he was not willing to do himself. He reminds me of all of the biographies of saints that I read as a young child, a person who lived outside of his own ego. If we were to rank all former Presidents by character he most surely would be in the top five. 
I have a cousin who has always insisted that Jimmy Carter was the best president in her lifetime and she has facts to prove that she is right. She went to see President Carter not long ago on a pilgrimage to the church where he often preached. Her trip was akin to finding the Holy Grail, the secret to life. She was inspired just as I was thirty years ago on the campus of Rice University. She felt his charisma and humanity in her soul. She cherishes the moment as one of the most impacting days of her life.
The world will miss President Jimmy Carter. We don't seem to have enough people doing what is right rather than what they think others want them to do. We have a dearth of honesty, humility and devotion to all people in our world today. Perhaps now we can all pause to consider the message that Jimmy Carter delivered to us all the days of his life and follow him in performing random acts of kindness and understanding wherever we go. It's an ideal that he has achieved and a challenge for us all.